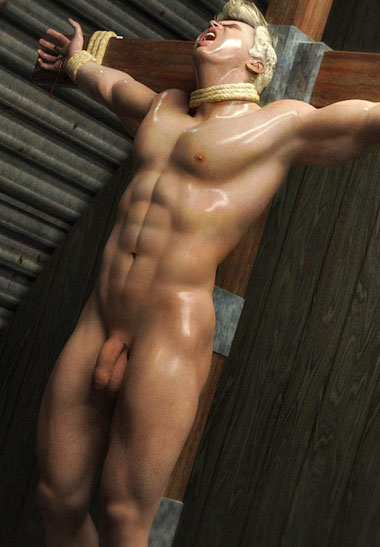 BONUS:
Kidnapping the Muscle Boy
Ryan is a young, blonde stud who is spotted at the gym by another young guy, Adam, who seems nice enough but is anything but. Adam is on the hunt for a blonde boy to torture and fuck. He smiles at Ryan in the parking lot – then zaps him with a Taser, dumping him in his van. Ryan awakes hours later tied up, naked, in a dark dungeon, a couple of men, one clothed, one naked, hovering near by. These men will torture him mercilessly, first spreading him on a wire frame and frying his balls with electricity, then nailing him to a cross.
We have teamed up with Sparkie Shock, a gifted 3-D animator, to present you with these occasional photo essays of BDSM fantasies that are too intense for real models but perfect for a twisted imagination! Click here to see Sparkie Shock's website or here to buy his first full-length comic.